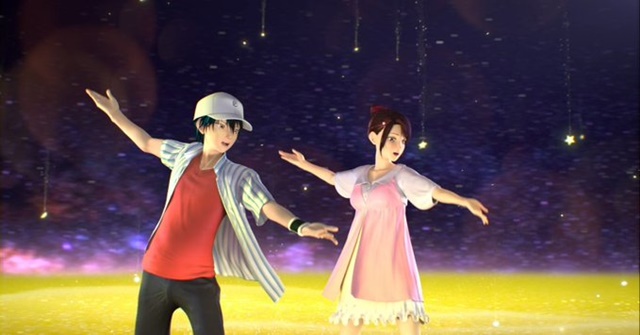 TOHO Cinemas' official YouTube channel has posted a special clip featuring "peace of mind ~Hoshi no Uta wo Kikiknagara (Listening to the song of the stars)~," an insert song of the upcoming all-new 3DCG feature film Ryoma! Sinsei Gekijyoban Tennis no Ouji-sama / Ryoma! Rebirth The Prince of Tennis: The Movie. The song is the first real duet between the protagonist Ryoma Echizen (CV: Junko Minagawa) and the main heroine Sakuno Ryuzaki (Mikako Takahashi), selected from over 900 character songs in The Prince of Tennis franchise.
In addition to various scenes from the film, the clip also shows Ryoma and Sakuno's performance of a breathtaking dance and duet in a star-filled landscape. Sakuno put her hair up in a ponytail instead of her familiar twin-tail braid. The video concludes with a scene of Ryoma and Sakuno smiling at each other in front of the stained glass windows of the church.
/#越前リョーマ & #竜崎桜乃

初の本格デュエット曲解禁????

\#映画リョーマ 劇中歌????

「peace of mind~星の歌を聴きながら~」

のシーンを収めた特別映像が、#TOHOシネマズ 公式YouTubeチャンネル限定で公開となりました✨

お馴染みの三つ編みではない桜乃の姿にも注目です????

— 『リョーマ!新生劇場版テニスの王子様』公式 (@ryoma3dtenipuri) August 12, 2021
---
The franchise's first full 3DCG film is set to be released in Japan on September 3, 2021. It tells an original story about what happened in the three months between the first manga The Prince of Tennis and its sequel The New Prince of Tennis.
The story takes place in the past in America. Three days after the finals of the National Tournament, the protagonist Ryoma Echizen goes on a tennis training trip to America by himself. When he arrives there, he encounters his classmate Sakuno Ryuzaki, who is also visiting the country on a family trip, is being tangled up with gang members. When the ball Ryoma throws to save her collides with another ball thrown by a mysterious person in a wheelchair, time and space get distorted, and the two are traveled back to the time when Ryoma's father was known as Samurai Nanjiro in America.
Full trailer:
Another insert song "RAP FESTIVAL":
Main poster visual: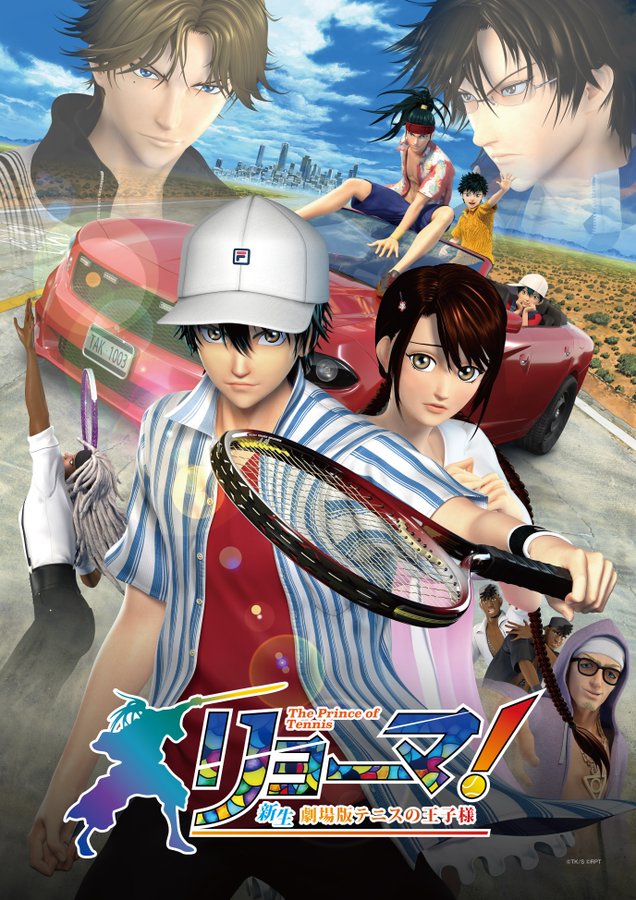 ---
Source: Toho Cinemas official YouTube channel, "Ryoma! Rebirth The Prince of Tennis: The Movie" official website / Twitter 
©Takeshi Konomi/Shueisha
©Rebirth Prince of The Tennis: The Movie Production Committee