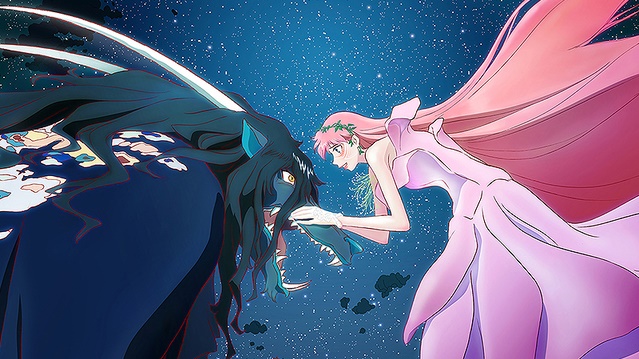 While having received mixed reviews as with his past works, its momentum in the box office shows no significant decline. In its second weekend, Mamoru Hosoda's Ryu to Sobakasu no Hime / BELLE earned 523 million yen (4.74 million yen) on 353,000 admissions, which was only 24 percent down from its first-weekend gross.
His much-awaited new film was released in 416 theaters across Japan on July 16, and its total box office gross has reached 2.4 billion yen (21.76 million USD) with 1.69 million tickets. This was a faster pace than his most commercially successful film Bakemono no Ko / The Boy and The Beast (2015), which earned 1.9 billion yen in its first two weeks. If this momentum continues, it seems likely that BELLE will become the top-grossing film of his career.
The live-action film adaptation of Ken Wakui's Tokyo Revengers manga has also continued to perform well at the box office. While maintaining the same second place as last week, the film made 262 million yen (2.37 million USD) on 188,000 admissions in its third weekend, bringing its total to 2.25 billion yen (20.4 million USD) to become the second top-grossing live-action film adaptation of a Japanese manga this year so far, behind only Rurouni Kenshin The Final (4.23 billion yen).
Meanwhile, the live-action film adaptation of Mayu Murata's popular shoujo manga Honey Lemon Soda had kept its debut weekend's fourth position for three weekends in a row. Its total box office gross had reached 440 million yen (3.99 million USD).
Surprisingly, Demon Slayer: Kimetsu no Yaiba the Movie: Mugen Train ranked seventh in its 41st weekend, returning to the top 10 for the first time in two months. The reason for this back was that the film was shown again at 383 theaters nationwide from July 22 to 29 as the "Final Screening." Thanks to this extra run, this mega-hit film's total box office gross in Japan has reportedly reached 40.13 billion yen (364 million USD).
---
 Weekend box office Top 10 in Japan (July 17-18, 2021)
 (ticket sales basis)
 1 (1). "BELLE" – 2.4 billion yen
 2 (2). "Tokyo Revengers" – 2.25 billion yen
 3 (new). "Saber + Zenkaiger: Super Hero Senki"
 4 (4). "Honey Lemon Soda" – 440 million yen
 5 (3). "Godzilla vs. Kong" – 1.6 billion yen yen
 6 (5). "Black Widow" – 600 million yen
 7 (-). "Demon Slayer: Kimetsu no Yaiba the Movie: Mugen Train" – 40.13 billion yen
 8 (8). "Rurouni Kenshin: The Beginning" – 2.25 billion yen
 9 (new). "Tobidase! Narase! PUI PUI Molcar"
 10 (7). "Character" – 1.47 billion yen
---
Source: Eiga.com, Pixiin, Oricon News
©2021 STUDIO CHIZU