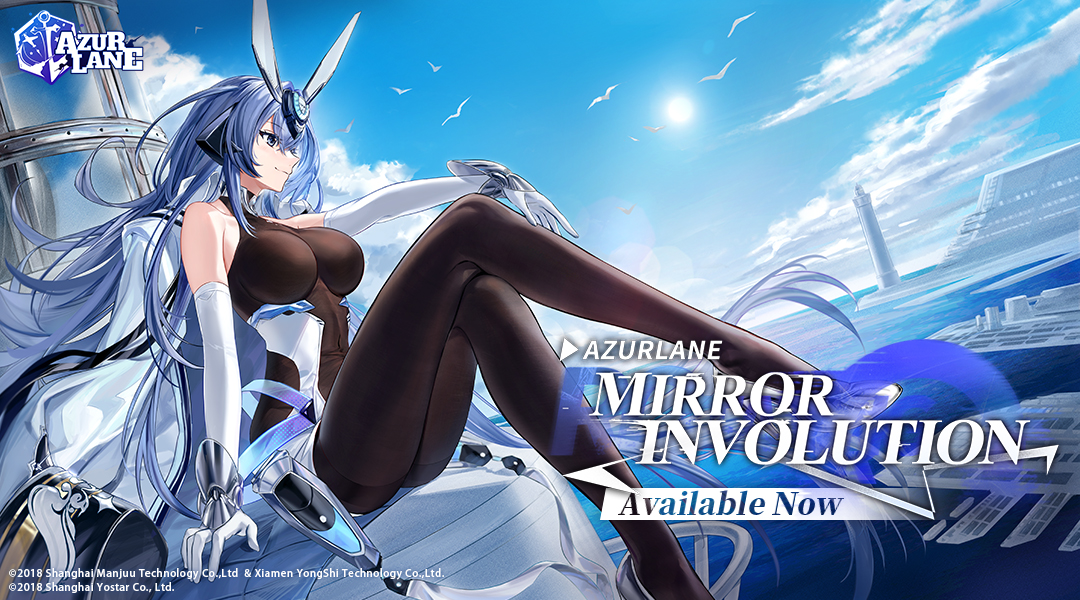 June 3rd, 2021 – Shanghai, China – Naval Shoot' Em Up mobile game Azur Lane is launching the Fourth Eagle Union major event, Mirror Involution, from now until June 9th. Seven new ship girls, including one Ultra Rare character are featured in this latest update, improving the combat strength of the Eagle Union. Additionally, the Mirror Involution event also brings new outfits, portrait frames, a new furniture set and multiple rewards for a limited time.
Download and play Azur Lane now

Mini Events & Rewards
Four mini-events are introduced in Mirror Involution, granting players more chances to receive different exclusive rewards. As long as players participate in the Soar Fledgling Wings mini-event, the novel character, Little Enterprise, can be obtained for free. The Sweetest Picnic skin for the character Saratoga is redeemable in the Manjuu Creamery. Choosing up to 2 characters in the permanent build pools for the Wishing Well will also grant the players a rate up for those characters. As for the Cake Defender, tons of gifts await including Early Summer Invitation 2021, Manjuuland Exchange Tickets, Gear Skin Box, Rental Outfit Vouchers, etc.
Players also can fully limit break the event characters and complete missions using phase 1 characters (Helena, Yorktown, Souryuu, Hiryuu) to obtain enough points to receive the limited portrait frame, Voltaic Lightwings.
Mirror Involution Animation Trailer
Mirror Involution Event Trailer
Brand New Characters
Seven new ship girls show up as Eagle Union members. The first Ultra Rare ship girl in the Eagle Union, New Jersey, is also given the name 'Black Dragon' as her barrage's firing skill is similar to a dragon breathing fire. New Jersey's skills also allow her to buff her faction members, enhancing the strength of the whole team.
Three super rare characters San Francisco, Ticonderoga and Archerfish as well as three elite characters Boise, Morrison and Little Enterprise will begin their journey in Mirror Involution. Ticonderoga is available in Limited Construction without rate up, and players can also exchange for the character in the event shop or obtain her as a drop in event maps.

Event Shop and Skins
In this update, the newly added furniture set is the Bunny Girl Bar, letting players dive into a chilling vibe after a fierce battle. Other resource supply packs will also be available for purchase.
Up to 12 latest skins including Sheepish Sapphire (Live2D) for Boise and Charming Rabbit (Live2D) for Allen M. Sumner, arrive in the shop. Amongst them, most skins are Bunny Girl-themed echoing the theme already present in the furniture set. Players can earn 2 rental outfit vouchers when they log in Azur Lane during the event. Each voucher can be used on the following skins: New Jersey – Exhilarating Steps!, Ticonderoga – Show Stopper! or Boise – Sheepish Sapphire.
Follow Azur Lane
About Yostar Games
Founded in 2014 and publisher of Azur Lane and Arknights, Yostar Games specializes in game development, global distribution, investment, and video game IP management. Situated in Tokyo and Shanghai, Yostar Games has rapidly become the top publisher and developer of the anime genre in China and is striving to become a global leader in the gaming industry.