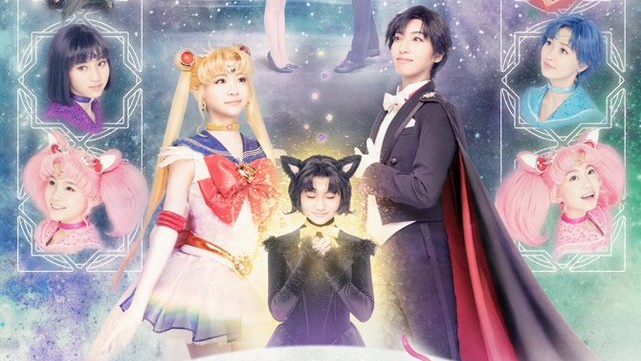 The official website for the Pretty Guardian Sailor Moon franchise has revealed a main visual, main cast, and performance schedule for its forthcoming new musical show Kaguya-hime no Koibito (The Lover of Princess Kaguya).
The show as originally slated for the summer of 2020 but has been postponed due to the impact of the COVID-19 pandemic. Now it is newly set to be performed at The Galaxy Theater in Tokyo from September 3 to 12, 2021. After advance sales for the official fan club members from June 11 to 30, general sales of the tickets will begin on August 7.
The new musical show is based on the 1994 film Sailor Moon S: The Movie, whose manga edition drawn by Naoko Takeuchi was also published in the same year under the title Kaguya-hime no Koibito. It was a popular episode among fans and told a sad love story between Usagi Tsukino's partner, Luna, and a young astronomer named Kakeru Ohzora, who saved her. Sailor Saturn, who didn't appear in the original story, will also join the musical.
【更新】ミュージカル「美少女戦士セーラームーン」かぐや姫の恋人

メインビジュアル&全キャスト・公演情報発表!https://t.co/0GlVkesHmk pic.twitter.com/sj5Rr0Cxae

— セーラームーン25th公式 (@sailormoon_25th) June 1, 2021
Main cast:
Sailor Moon / Usagi Tsukino: Riko Tanaka
Sailor Mercury / Ami Mizuno: Kanon Maekawa
Sailor Mars / Rei Hino: Rei Kobayashi
Sailor Jupiter / Makoto Kino: Kisara Matsumura
Sailor Venus / Minako Aino: Masuzu Makino
Sailor Uranus / Haruka Tenno: Shinju Terada
Sailor Neptune / Michiru Kaiou: Ayana Kinoshita
Sailor Pluto / Setsuna Meiou: Chisato Minami
Sailor Saturn / Hotaru Tomoe: Yuzuka Ide
Sailor Chibi Moon / Chibi-Usa: Yurika Kobayashi, Erena Kamada (double cast)
Luna (in human form): MARISA
Luna: Yune Sakurai
Kakeu Ohzora: Natsume Oki
Himeko Nayotake: Nanami Tamai
Snow Dancers: Moeko Koizumi, Ayumi Sagisaka, Ayano Nagasawa, Yuri Hirano, Sakura Morimoto, Eri Yanagida
Princess Snow Kaguya: Sayaka Okamura
Tuxedo Mask / Mamoru Chiba: Riku Sorahane 
---
Source: "Pretty Guardian Sailor Moon" official website / Twitter
(c)Naoko Takeuchi, PNP/Musical "Pretty Guardian Sailor Moon" Production Committee 2021