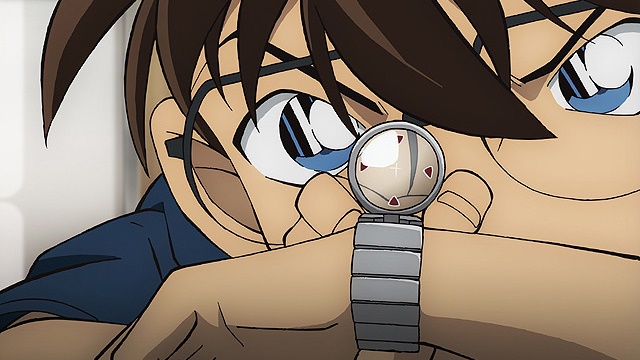 While the releases of many films have been postponed due to the third declaration of a state of emergency in Japan (and no new films made it to the top 10), the Detective Conan anime franchise's 24th feature film Meitantei Conan: Hiiro no Dangan / Detective Conan: The Scarlet Bullet has stayed at No.1 for three consecutive weeks.
According to the film's distributor Toho, the 110-minute film had added 1.7 billion yen (15 million USD) since the previous weekend and has earned a huge 5.6 billion yen (51.3 million USD) on 4.04 million admissions in 20 days since its release in Japan on April 16, which was 900 million yen more than the three-week gross of the previous 23rd film The Fist of Blue Sapphire in 2019. The film has been expected to the most successful film in the Conan anime franchise and even surpass the historic 10 billion yen mark for the first time, however, with the extension of the state of emergency declaration, its future is uncertain.
Rurouni Kenshin: The Final, the first part of the two-part "Final Chapter" live-action film series inspired by Nobuhiro Watsuki's action jidaigeki manga series Rurouni Kenshin has kept a second place in its second weekend. The 138-minute film based on the manga's final "Jinchu" arc has already surpassed two billion yen (18.3 million USD), becoming this year's top-grossing live-action film adaptation of a Japanese manga. 
Evangelion: 3.0+1.0 Thrice Upon a Time has also stayed at third place in its eighth weekend. Toei announced yesterday that the film had earned 8,282,298,700 yen (75.7 million USD) on 5423475 admissions in 59 days since its release. It has surpassed the domestic gross of Shin Godzilla (8.25 billion yen / 75.4 million USD), for which Hideaki Anno served as the general director and the screenplay writer, becoming the highest-grossing film in Anno's career. 
Demon Slayer: Kimetsu no Yaiba the Movie: Mugen Train jumped up two positions to fourth in its 29th weekend. The film has earned 39.88 billion yen (365 million USD) in 202 days, and is very close to reaching the 40 billion yen mark.
After making its fifth-place debut last weekend, BanG Dream! Episode of Roselia I: Yakusoku (Promise), the first part of the all-new two-part film series focusing on Roselia from the BanG Dream! multimedia franchise, dropped to tenth in its second weekend. 
---
 Weekend box office in Japan (May 1-2, 2021)
 (ticket sales basis)
 1 (1). "Detective Conan: The Scarlet Bullet" – 5.6 billion yen
 2 (2). "Rurouni Kenshin: The Final" – 2 billion yen
 3 (3). "Evangelion: 3.0+1.0 Thrice Upon a Time" – 8.28 billion yen
 4 (6). "Demon Slayer: Kimetsu no Yaiba the Movie: Mugen Train" – 39.88 billion yen
 5 (-). "Nomadland" – 240 million yen
 6 (4). "Signal: Long-Term Unsolved Case Investigation Team: The Movie"
 7 (7). "Monster Hunter"
 8 (8). "Hanataba mitai na Koi wo Shita" – 3.71 billion yen
 9 (9). "Okusama wa Toriatsukai Chuui"
 10 (5). "BanG Dream! Episode of Roselia I: Yakusoku"
---
Source: Eiga.com, Pixiin, Oricon News 1, 2
©2020 Gosho Aoyama/Detective Conan Production Committee