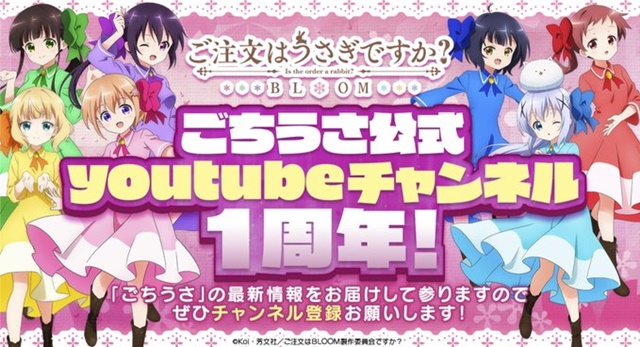 In light of the continued situation in which there was a need for "STAY HOME" for the time being, the official YouTube channel for the Is the Order a Rabbit? anime franchise opened on May 2, 2020. To celebrate its first anniversary, the channel will stream two live event footage from the past on May 8, 2021.
Originally, a live-concert event "Rabbit House Tea Party 2021" was planned to be held at Pacifico Yokohama National Convention Hall in Kanagawa Prefecture on the day, May 8. However, as a result of the current situation of the COVID-19 pandemic and the request from the local governments to refrain from going out unnecessarily and moving across prefectures, the organizer has decided to postpone the event to February 26, 2022.
As a thank you gift to the fans for their continuous support and an alternative to the postponed event, two past live concert events will be streamed under the title "Gochiusa Air Tea Party" (no archive streaming will be available).
1. "Rabbit House Tea Party 2014" (70 minutes) – 14: 00 on May 8 (JST) / 22:00 on May 7 (PST):
— TVアニメ『ご注文はうさぎですか?』 (@usagi_anime) May 2, 2021
2. "Rabbit House Tea Party 2016" (146 minute) – 18:30 on May 8 (JST) / 02:30 on May 8 (PST):
— TVアニメ『ご注文はうさぎですか?』 (@usagi_anime) May 2, 2021
— TVアニメ『ご注文はうさぎですか?』 (@usagi_anime) May 2, 2021
---
Source: TV anime "Is the Order a Rabbit?" official YouTube channel / Twitter
©Koi, HOUBUNSHA/Gochiusa Partners