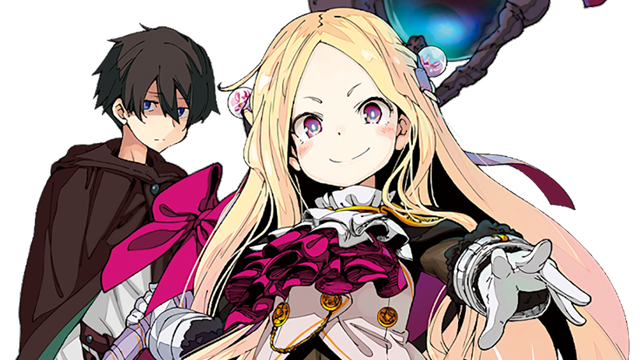 On the release day of its third volume in Japan, the official website for Kodansha's light novel imprint Kodansha Lanove Bunko has announced that a TV anime adaptation of Kakeru Kobashiri's fantasy series Mahoutsukai Reimeiki / The Dawn of The Witch is now in the works.
The novel has been published from the imprint since August 2018. It is considered as the second part of the author's previous series Grimoire of Zero, which shares some of the same world setting and characters, but has also been written as a new stand-alone series that can be read without prior knowledge. 
Synopsis of the first volume:
After five hundred years of conflict between the church and witches, a peace was made a few years ago. But in the shadows, the residue of the conflict still lingers in many parts of the world. Saville, a failed student at the Royal School of Witchcraft and Wizardry in the Kingdom of Wenias, has lost his memory of what happened before he entered the school. At the behest of President Albus, he is sent on a special training mission to the southern part of the continent, where the anti-witch faction is strong. Accompanying him are a number of people with strong personalities, such as Lo Christus, a witch of the dawn who wants access to the forbidden Book of Zero, which tells the beginning of magic, Holt, a brilliant girl, and Kudoh, the school's only beastfallen. And what is the truth that they will encounter in the south–? 
The novel author has posted a special short story to celebrate the TV anime adaptation news on Twitter.
『魔法使い黎明期』

アニメ化決定!!

いたしました!!

これも皆様方の応援のたまもの……!!

かっとなった勢いでアニメ化記念掌編を書いてしまったので、黎明期読者もゼロの書読者もどっちも読者も、合わせてお祭り騒ぎに参加していただけますと幸いです!! pic.twitter.com/fBsL3V6fFp

— 虎走かける@黎明期アニメ化決定! (@kobashirikakeru) April 27, 2021
The third volume with a wrap-around band to announce the TV anime news.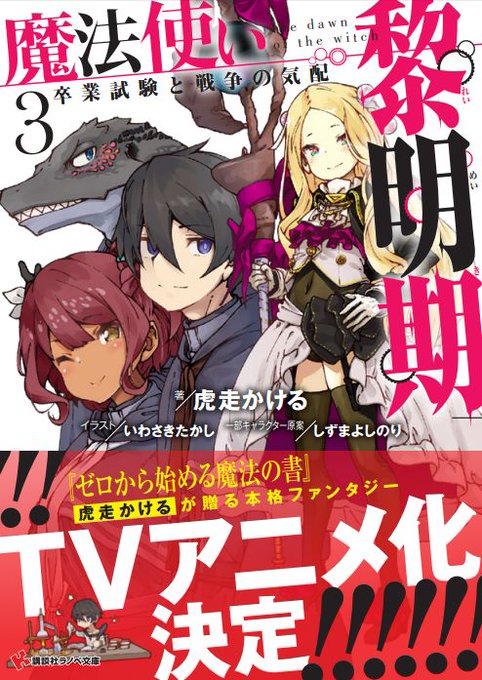 1st & 2nd volume covers: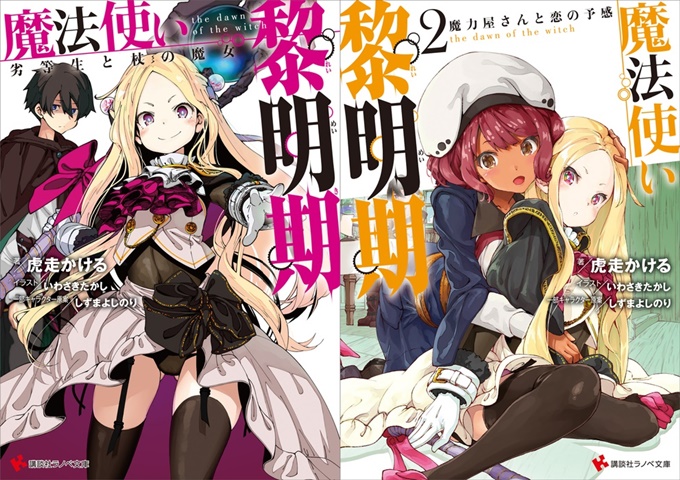 PV for the novel posted in February 2019:
---
Source: "The Dawn of The Witch" novel official website / Kakeru Kobashiri's Twitter
© Kakeru Kobashiri / Kodansha illustrations: Takashi Iwasaki