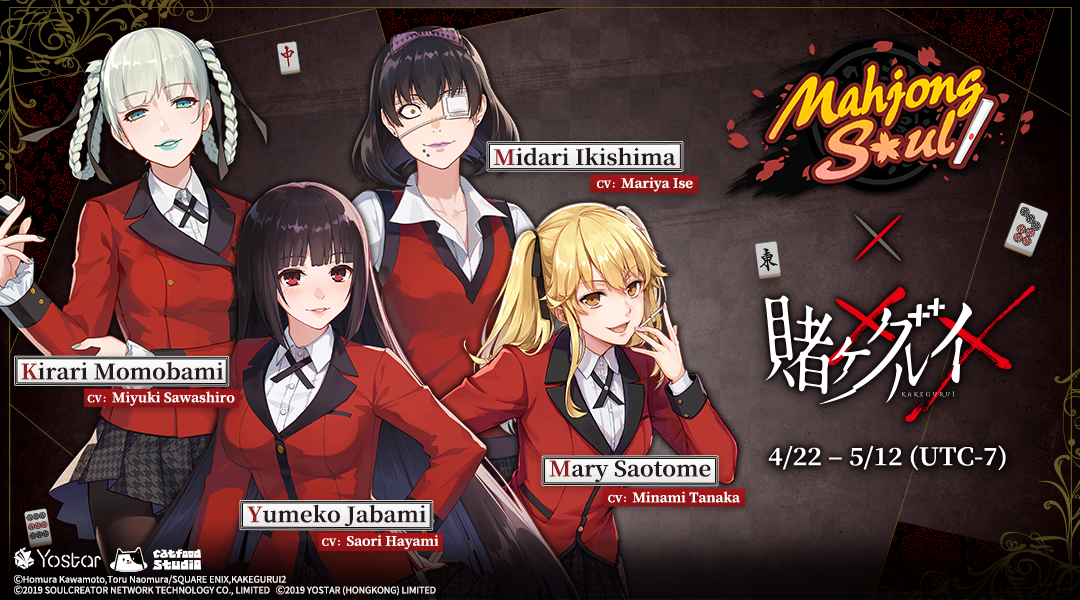 April 23, 2021 – Shanghai, China – The anime-themed Japanese riichi mahjong game Mahjong Soul has launched its special collaboration event with Kakegurui xx on the English language version as the 2nd anniversary of the game's English launch draws closer. The collaboration event will bring Kakegurui xx-themed elements to the world of Mahjong Soul. Various rewards and new skins will also be made available in celebration of this collaboration. The event starts on April 22, 2021 and runs to May 12, 2021. 
Download Mahjong Soul Now: https://bit.ly/3glsnre

 
About the Collaboration Event 
Continuing the momentum from previous collaboration success, Mahjong Soul will be collaborating with the well-known Japanese anime Kakegurui xx. By moving Kakegurui xx's main arena from the high school campus to a field trip inn locale that focuses on mahjong, it aims to enable players to show off their skills of logical reasoning, outsmarting opponents and trying their luck in playing Mahjong. In this event, Mahjong Soul will also introduce multiple Kakegurui xx related characters, outfits, decorations, and special effects as well as an abundance of exceptional rewards. At the same time, to deliver a riveting experience like the one in Kakegurui xx, Mahjong Soul will also launch the time-limited event—Woodland Field Trip, adding more uncertainty and giving players a rollercoaster-like Mahjong experience.
New Match Modes and Rewards
During the event, players will match against random players in two time-limited game modes—DoraDorara and Bloodshed Skirmish which is based on Sichuan Mahjong rules that are different from traditional Japanese Mahjong. In Bloodshed Skirmish, players need to use their intellect and adapt to difficult situations as playing the game requires them to abandon one kind of number tile at the start of each round, making this game mode far more engaging. On the other hand, in DoraDorara, players must start with 3 dora indicators at the beginning of each game, and can reveal up to 5 Dora indicators in total. As long as players seize the moment and are brave enough to risk it all, there are ample opportunities to turn defeat into victory. After finishing the game, players will receive field trip points as rewards. By accumulating field trip points, players can unlock more Kakegurui xx-collaboration event stories as well as acquiring fabulous rewards within the Tower of the Wise. 
New Series Collaboration Jyanshis and Outfits
Moreover, Mahjong Soul welcomes 4 popular characters from Kakegurui xx, including Yumeko Jabami, Mary Saotome, Midari Ikishima, and Kirari Momobami, to join the carnival. With their unique personalities, these 4 new Jyanshis are also given brand-new outfits and dialogue lines that showcase their individual charisma in the heat of battle. Additionally, Mahjong Soul has also implemented various emotes for the Jyanshis, allowing players to use hilarious emotes to enhance their enjoyment and rivalry inside the exciting battle room.
The collaboration also adds the original voice cast members from the  Kakegurui xx anime, to recreate the memorable characters as close to the anime as possible. 
New Decorations and Special Effects 
Mahjong Soul also adds a series of brand new special effects and decorations with Kakegurui xx elements including Riichi Bet, Tile Back and Tablecloth. By restoring the classic elements from the anime, it gives players an immersive experience, letting them dive into this intriguing game and collaboration.
Follow Mahjong Soul 
Mahjong Soul Official Homepage
About Kakegurui 
The series story of Kakegurui takes place at Hyakkaou Private Academy, one of Japan's most prestigious schools where, unlike normal schools, the hierarchy is determined by strategy game playing. Yumeko Jabami, the protagonist of the story, is a transfer student whose beautiful, innocent facade hides her obsession with risky strategy games. With an intellect able to pierce through the elaborate cheating methods used by the most powerful students to rig games in their favour, Yumeko threatens to destroy the twisted hierarchy of the school simply for the thrill of it.
About Yostar Games
Founded in 2014 and the publisher of Azur Lane and Arknights, Yostar Games specializes in game development, global distribution, investment, and video game IP management. Situated in Tokyo and Shanghai, Yostar Games has rapidly become the top publisher and developer of the anime genre in China and is striving to become a global leader in the gaming industry.