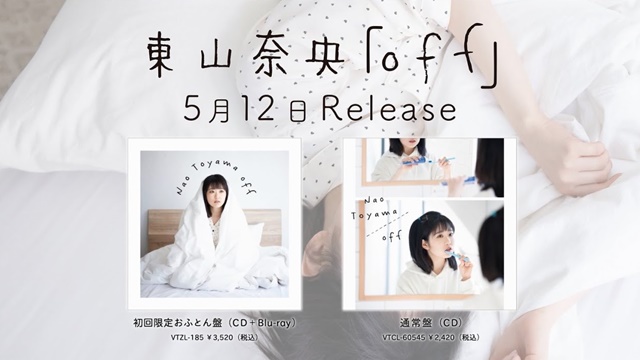 The official YouTube channel for voice actress Nao Toyama (Chitoge Kirisaki in Nisekoi, Rin Shima in Laid-Back Camp) has started streaming an eight-minute preview video to introduce the six songs from her forthcoming new mini-album "off."
As "an important announcement," the release of her first concept album was announced in her special live-streaming program for Valentine's Day on February 14, 2021. At the same time, the website for the album was opened, ans has been adding special contents on the days marked "off" on the calendar.
The concept of the album including six songs based on six "OFF" (Holiday) is "rest and healing." It is set to be released on May 12, 2021, and its bonus Blu-ray features Toyama's two-day and one-night trip where you can see the real face of her, which you can't usually see.
All-song preview:
First press limited "Ofuton" edition CD jacket: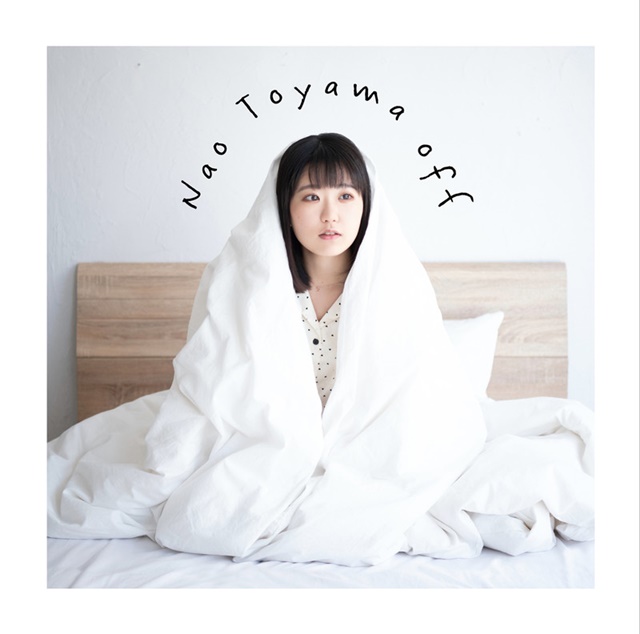 Standard edition: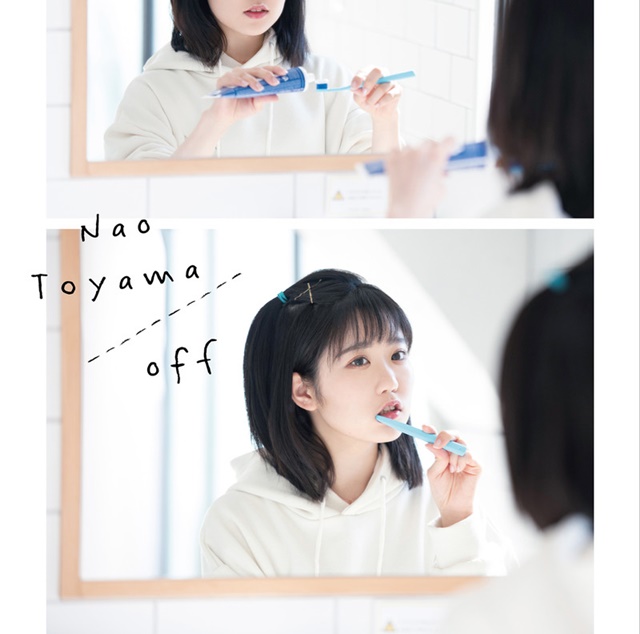 Song list:
1. "off"  – Lyrics, Music, Arrangement:Koushi Miura
 Theme: "off, healed by the sounds of everyday life"
2. "Prologue"  – Lyrics, Music, Arrangement by Zenko Mitsuya
 Theme: "off to be excited by love"
3. "Goo" – Lyrics, Music, Arrangement by Kairiki Bear
 Theme: "Turn off your reason by releasing stress"
4. "Shampoo Rinse" – Lyrics and Music by Satomi Kawasaki / Arrangement by Kazuki Watanabe
 Theme: "Take a bath and turn off the fatigue of the day"
5. "Rhythm Loop"  – Lyrics by Koyomi / Music and arrangement by Nobumasa Tanaka
 Theme: "Off, Immersed in Sentimentality"
6. "Ashita Aetara" (If We can Meet Tomorrow) – Lyrics and Music by Nao Toyama / Arrangement by Kento Ohgiya 
 Theme: "Turn off your mind with your futon"
Announcement PV:
---
Source: Nao Toyama official YouTube channel / "off" special website
©2021 FlyingDog, Inc.