Heyas Knights! It's quickly approaching the end of April and we've got some big news to share with you regarding Princess Connect! Re: Dive! We've got updates for campaigns and characters heading your way, starting in late April and continuing throughout the first part of May. Let's sink our teeth into it!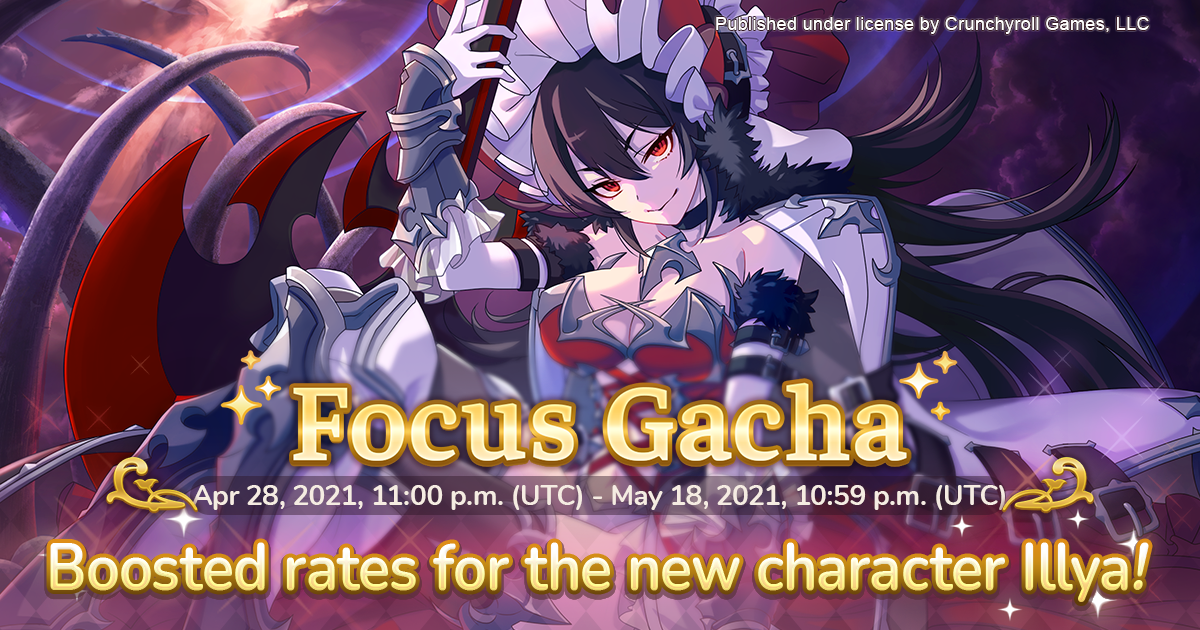 After slumbering for years, Illya Ornstein, the long-awaited guild leader of Diabolos, joins the fray on a quest for world domination! Illya's skills to buff her attack stats and deal magic damage make her a formidable threat, and she'll suck the life out of her foes with her Union Burst, Vermillion Bite, which deals massive magic damage and heals her in the process. Voiced by Sakura Tange, this bewitching lamia is ready to turn you into her humble servant.
Illya will have an increased draw rate in her Focus Gacha, and she'll also be available for redemption using character exchange points. If you desire to acquire this inspired vampire, don't miss this perfect opportunity for her to join your ranks! (Or is it you joining her ranks?) Either way, get ready to join the Illya fang club!
The Illya Focus Gacha will run from 4/28 23:00 UTC to 5/18 22:59 UTC. This also means you'll be able to use your free daily 10-draw on her, but only if you haven't already used it on the Misato banner earlier that day. Choose wisely, Knights!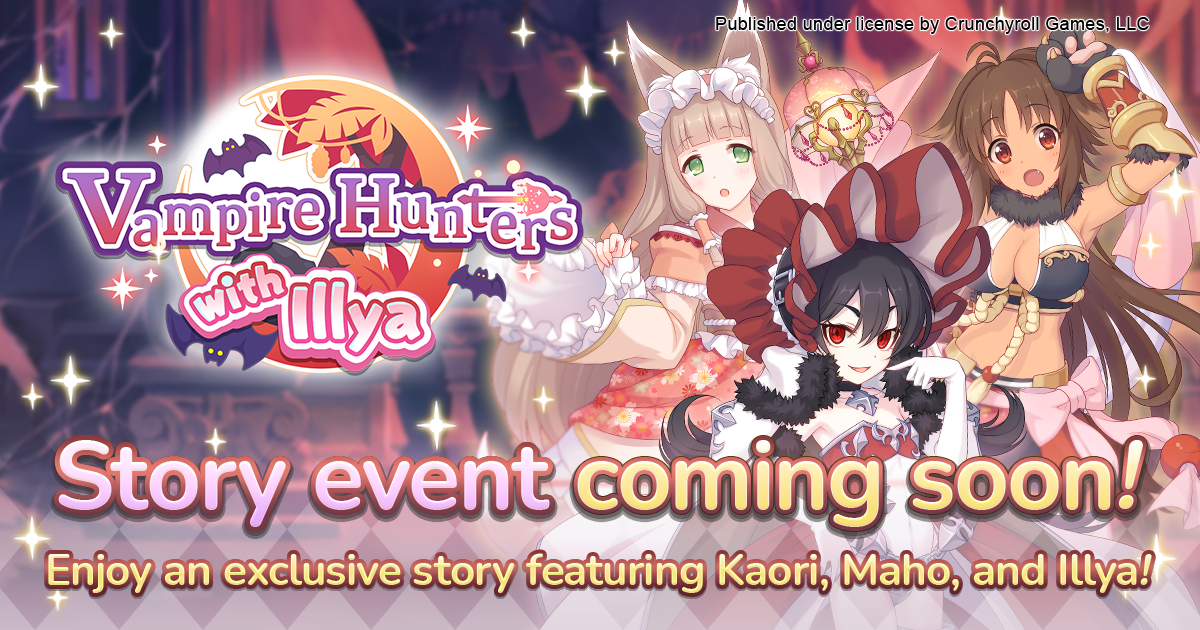 If just having Illya take you on as her loyal servant wasn't enough, we're also excited to announce the next story event, Vampire Hunters with Illya! Join Maho and Kaori as they head out on a journey to find and hunt the Legendary Vampire.
Much like previous events, this event features exclusive boss battles, where you can test your skills and mettle in two different difficulties, Normal and Hard. You'll need Boss Tickets to earn a shot at defeating the boss, which can be obtained by clearing event stages and from login bonuses while the event is active. If you don't successfully defeat a boss on the first attempt, no worries – you can retry as many times as necessary, and non-lethal damage dealt to a boss will carry over between attempts.
The Victory Medal Gacha also makes a return! Clearing event stages, event missions, and defeating the aforementioned bosses will earn you Victory Medals, which can be exchanged at the Victory Medal Gacha for sweet, suck-ulent rewards. There's a predetermined series of reward lineups, each featuring a key reward – once you roll the current lineup's key reward, you'll have the opportunity to either reset the rewards and move on to the next lineup or hold off on resetting to clear out all the possible rewards. Here are the key rewards you should look out for!
Lineup 1: Kaori's Memory Shard x 20
Lineup 2: Maho's Memory Shard x 25
Lineup 3: Kaori's Memory Shard x 30
Lineup 4: Maho's Memory Shard x 40
Just remember – once you've gone through the four initial lineups, you won't be able to reset the active lineup until you've obtained all the possible rewards from the current active lineup. 
The Vampire Hunters with Illya Story Event will run from 4/28 23:00 UTC to 5/18 22:59 UTC.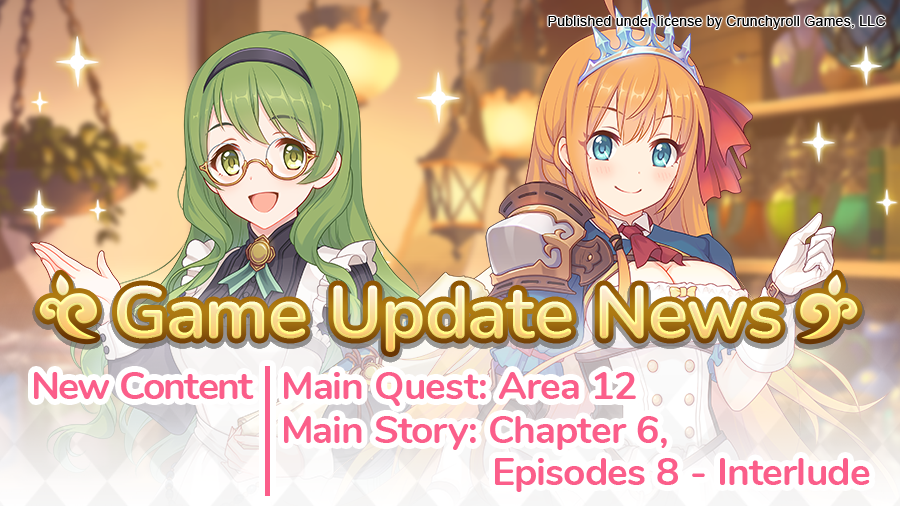 We'll also be unlocking Area 12 during the month of May! Make the journey to Bononia Dunes, where you'll fight new monsters, collect new equipment, and unlock more parts of the main story as you trudge through the dangerous sands. The new items found in Area 12 will allow you to rank up your characters to 5 slots at rank 9, and you'll uncover more parts of Chapter 6 of the main story, all the way to the chapter's conclusion. Plus, you can discover new hard stages to collect more Memory Shards for Mahiru, Shiori, and Akino.
In addition to the new stages, we're also increasing the level cap from 93 to 98! Be sure to start stocking up on mana and experience potions.
The new area, increased level cap, and new story will be available after 5/12 at 13:00 UTC.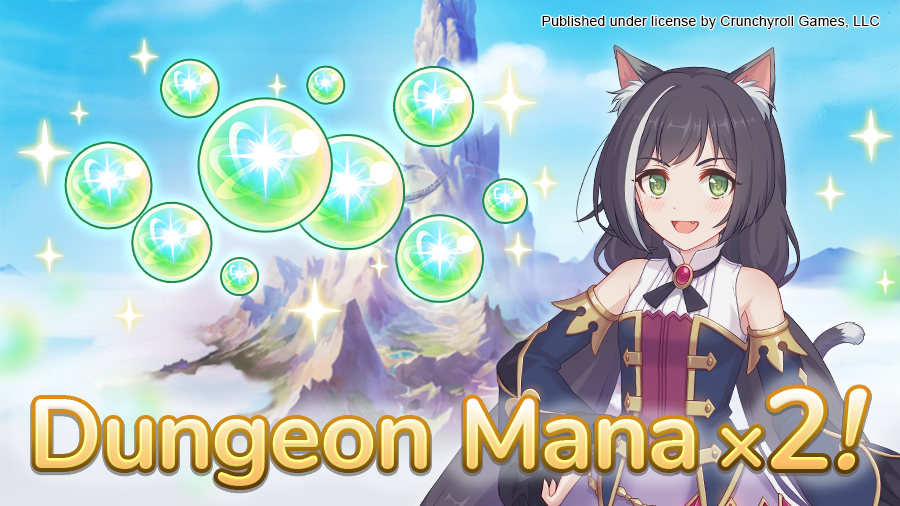 The Dungeon already has a host of sweet rewards, but you know what's even better? Double the rewards! 2x drops are coming back to the Dungeon, meaning that all mana obtained in your runs are doubled in quantity – a perfect opportunity to strengthen your characters. The Dungeon Double Drops Campaign will last for 13 days, from 4/24 13:00 UTC to 5/6 12:59 UTC.
After stocking up on mana, you'll probably want to stock up on some experience potions – a perfect opportunity to take advantage of 2x drops for Grotto Quests! In a similar vein to the above, all drops obtained by clearing EXP Quests and Mana Quests in the Grotto will be doubled in quantity. This is a great opportunity to obtain the Mana and EXP Potions you need to strengthen your characters! The Grotto Quests Double Drops Campaign will last for 14 days, from 5/6 13:00 UTC to 5/19 12:59 UTC.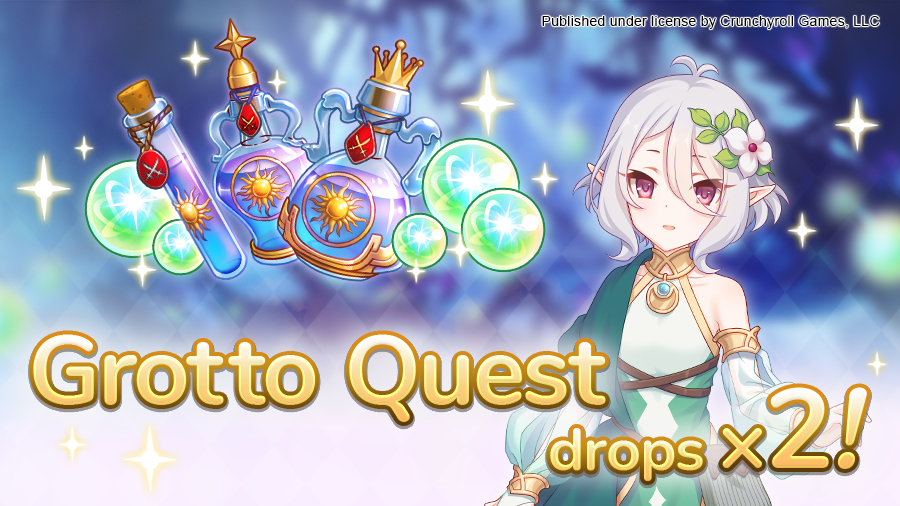 We wouldn't want anything to fall between the cracks, so we've included a summarized version of all the updates announced today, for easy reading and accessibility. Thank you for all your support, and we hope you continue to enjoy Princess Connect! Re: Dive! 
See you in Astraea, Knights!
— Crunchyroll Games
*Note: All event details may be subject to change. Please check the in-game notifications at the start of the events for the full details.
Illya Focus Gacha (4/28 23:00 UTC to 5/18 22:59 UTC)

Increased rate-up for Illya
Illya available for redemption

Story Event – Vampire Hunters with Illya (4/28 23:00 UTC to 5/18 12:59 UTC)
May Content Drop (5/12 13:00 UTC)

Main Quest Area 12 unlocked
Level cap increased from 93 to 98
Character equipment cap increased from 9-3 to 9-5
Chapter 6 of the main story fully unlocked

Dungeon Double Drops (4/24 13:00 UTC to 5/6 12:59 UTC)
Grotto Double Drops (5/6 13:00 UTC to 5/19 12:59 UTC)