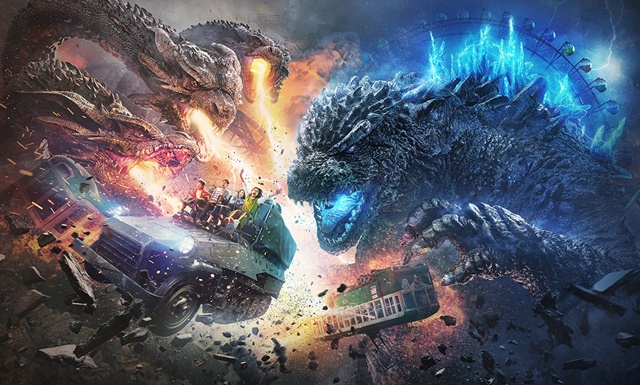 The world's first permanent ride attraction inspired by Toho's internationally famous kaiju character Godzilla, named "Godzilla the Ride: DaiKaiju Choujo Kessen (A Decisive Battle of Great Monsters)", will be set up at the Seibu-en Amusement Park in Tokorozawa-city, Saitama Prefecture, which will undergo a renewal and grand opening on May 19, 2021.
At the new large-scale ride attraction, guests are thrown into the middle of a fierce battle between Godzilla, King Ghidorah, and other giant monsters, and enjoy the continuous thrill of being suddenly attacked. The visuals of the attraction was directed by Takashi Yamazaki (Always series, Space Battleship Yamato). He has never directly directed a kaiju-genre film, but the full CG Godzilla that appeared in his 2007 film Always: Sunset on Third Street 2 was highly praised by fans. Also, the giant monsters in the ride are newly designed by Yamazaki himself.
"Godzilla the Ride" story:
The movie theater, built on a small hill visible from the shopping district and loved by the people of the city, has been filled with the smiles of many people. In the midst of the peaceful life, a mysterious giant monster, King Ghidorah, suddenly appears in Tokyo. King Ghidorah proceeds to move towards Saitama, knocking down the buildings of the cities. In addition to King Ghidorah, an emergency broadcast in the museum informs that another mysterious giant monster is approaching. Getting in a special armored car of the Special Disaster Response Unit, "Tokusai-tai," the guests are thrown into the middle of the fierce battle between Godzilla and King Ghidorah. Will they be able to escape safely? 
5/19グランドオープンの「西武園ゆうえんち」にゴジラのライドが登場!演出は山崎貴監督。ゴジラとキングギドラの激闘に巻き込まれる新感覚のアトラクション! https://t.co/3yQR8UQZ6l

— ゴジラ (@godzilla_jp) April 13, 2021
---
Source: Seibu-en press release
TM & (c) TOHO CO., LTD.