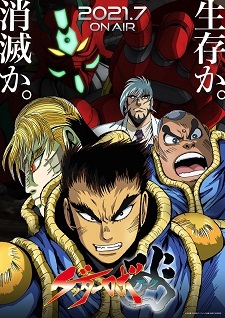 The official website of the Getter Robo Arc anime revealed cast, production staff, the first key visual (pictured), second promotional video, and its television format on Friday. The anime series adapting the fifth and final manga in the franchise by Ken Ishikawa and Go Nagai will air in July 2021.
Cast

Takuma Nagare: Yuuma Uchida (Ahiru no Sora)

Shou Kamui: Arimaro Mukaino

Baku Yamagishi: Kazuhiro Sunseki (Net-juu no Susume)

Jin Hayato: Naoya Uchida (Drifters)
Staff

Series Composition, Script: Tadashi Hayakawa (Cyborg 009 VS Devilman)

Character Concept: Kazumi Hoshi (Dino Getter manga)

Character Design: Hideyuki Motohashi (Saint Seiya: Soul of Gold)

Robot Concept Design: Toshiyuki Horii (Koutetsushin Jeeg mechanical design)

Prop Design, Mechanical Design: Gouichi Iwahata (Arte), Yasuhiro Moriki (Divine Gate), Noritaka Suzuki (Akame ga Kill!)

Art Director: Daisuke Negishi (Soukou Musume Senki)

Art Setting: Katsuhisa Takiguchi (Choukadou Girl ⅙)

CG Director, CG Design: Yuuichi Gotou (Frame Arms Girl)

Sound Director: Tooru Nakano (Cutie Honey Universe)

Music: Yoshichika Kuriyama (Mazinkaizer SKL), Shiho Terada (Zettai Bouei Leviathan)

Music Production: Lantis

Planning: Dynamic Planning
Jun Kawagoe (Shin Getter Robo) is directing the television anime at animation studio Bee Media (Mazinkaiser). Anisong band JAM Project (Shin Getter Robo tai Neo Getter Robo) is performing the theme song "Bloodlines: Unmei no Kettou."
Ishikawa and Nagai launched the original mecha manga manga in Weekly Shounen Sunday in 1974. Toei Animation produced the first television anime in 1974, followed by a 39-episode sequel in 1975. The Getter Robo Go anime series aired in 50 episodes in 1991–1992.
PV 2
Source: Anime! Anime!