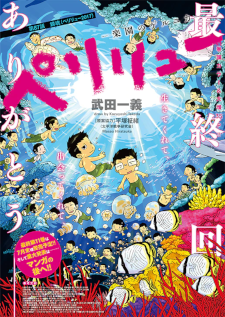 Kazuyoshi Takeda's Peleliu: Rakuen no Guernica (Peleliu: Guernica of Paradise) military drama manga ended in this year's eighth issue of Young Animal on Friday. The issue also revealed that an anime adaptation will be produced.
Synopsis

Shouwa 19 (1944), summer. Tamaru, a soldier who aspired to be a manga artist, was on Peleliu Island at the end of the Pacific War. The island was a paradise covered with beautiful forests and surrounded by a sea of coral reefs. It was also a battlefield on which 50,000 soldiers from Japan and the United States killed each other. At that time, 40,000 elite US troops invaded in an attempt to seize the airfield, which was touted as the best in East Asia. A garrison of 10,000 Japanese troops was ordered to meet the aggressors and "thoroughly endure" the attack. What did they fight for and what was on their minds on this small island far from their homeland?!? A long-forgotten record of truth from young people who lived in the "war" era! (Source: Hakusensha, translated)
Peleliu: Rakuen no Guernica was first serialized in Young Animal's fourth issue of 2016. It concluded with its 87th chapter on Friday. Hakusensha published the tenth compiled volume on January 29.
Takeda won the Japan Cartoonists Association Award's Award of Excellence for Peleliu: Rakuen no Guernica in 2017. The manga placed 12th in the "Kono Manga ga Sugoi!" 2018 male readers' ranking, and this year it is among the nine nominees for the Tezuka Osamu Cultural Prize.
Manga official site: https://www.hakusensha.co.jp/comicslist/42935/
Source: Comic Natalie