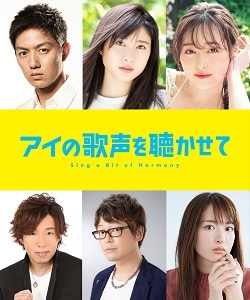 The official website for Ai no Utagoe wo Kikasete (Sing a Bit of Harmony), an original anime film from Yasuhiro Yoshiura (Eve no Jikan, Sakasama no Patema), revealed the main cast, additional staff, and a teaser promo indicating a Fall 2021 premiere on Wednesday.
Cast

Shion: Tao Tsuchiya (Boku dake ga Inai Machi)

Satomi: Haruka Fukuhara (Kaguya-sama wa Kokurasetai?: Tensai-tachi no Renai Zunousen)

Touma: Asuka Kudou (Kuragehime live-action drama)

Gocchan: Kazuyuki Okitsu (Fuuka)

Aya: Mikako Komatsu (Ao Haru Ride)

Sanda: Satoshi Hino (Bakuman.)
Tsuchiya will perform the theme song for the movie, "You Need a Friend ~ Anata ni wa Tomodachi ga Iru." Ryou Takahashi (SK∞) is composing the film's music and Youhei Matsui of Technoboys Pulcraft Green-Fund is writing the lyrics.
Yoshiura is writing and directing the film at J.C.Staff. Hidekazu Shimamura (Nodame Cantabile: Paris-hen chief animation director, character design) is the chief animation director and is also designing characters, and Kanna Kii (Umibe no Étranger) is credited with original character design.
Teaser 2
Source: Eiga Natalie