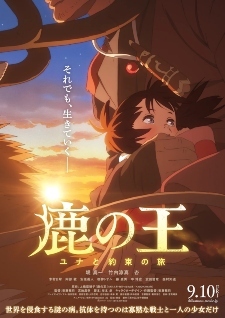 Toho opened an official website for the theatrical anime adaptation of Nahoko Uehashi's Shika no Ou (The Deer King) novel on Thursday, revealing the main cast, additional staff, a teaser trailer, and teaser visual (pictured). The anime film, subtitled Yuna to Yakusoku no Tabi (The Promised Journey with Yuna), is scheduled to open in theaters on September 10, after its delay from last September.
Cast
Van: Shinichi Tsutsumi (Okoshiyasu, Chitose-chan)
Hossal: Ryouma Takeuchi (Sensei Kunchu live-action movie)
Sae: Anne Watanabe (Birthday Wonderland)
Staff
Concept Visual: Hiroki Shinagawa (Cheating Craft art setting)
Art Director: Hiroshi Oono (Sarusuberi: Miss Hokusai)
Color Design: Satoshi Hashimoto (Vinland Saga)
Director of Photography: Kouji Tanaka (Yuukoku no Moriarty)
Sound Director: Hiromi Kikuta (Magi: The Labyrinth of Magic)
Music: Harumi Fuuki (Tsurune: Kazemai Koukou Kyuudoubu)
Masashi Andou (Kimi no Na wa. animation director) is helming the film with Masayuki Miyaji (Bounen no Xamdou) at Production I.G. Andou is also serving as the character designer and chief animation director, and Taku Kishimoto (Boku Dake ga Inai Machi) is penning the script.
Kadokawa published the two-volume fantasy novel in September 2014 and later reprinted the series in four volumes in June and July 2017. Shika no Ou: Minasoko no Hashi (The Deer King: Underwater Bridge), the sequel novel, shipped in March 2019.
Teaser Trailer
Official site: https://shikanoou-movie.jp/
Official Twitter: @shikanoou_movie
Source: Comic Natalie