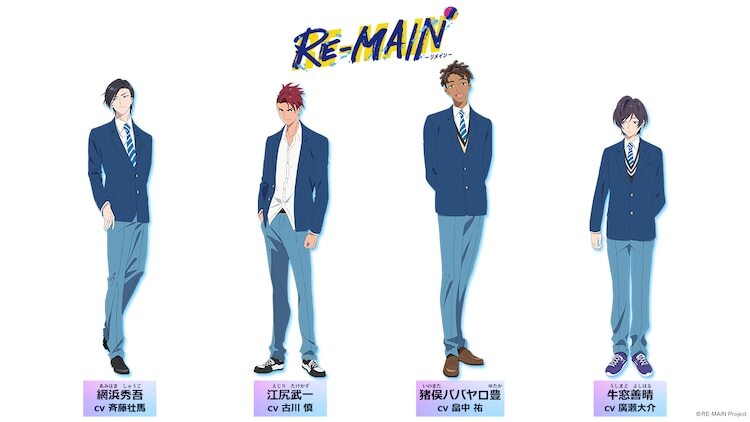 The official website for the original television anime Re-Main revealed four additional cast members and a teaser promotional video on Monday. The anime is scheduled to premiere in 2021.
Cast
Shuugo Amihama: Souma Saitou (Haikyuu!!)
Takekazu Ejiri: Makoto Furukawa (Yuukoku no Moriarty)
Yutaka Babayaro Inomata: Tasuku Hatanaka (SK∞)
Yoshiharu Ushimado: Daisuke Hirose (Oushitsu Kyoushi Heine)
Masafumi Nishida (Tiger & Bunny) is helming the water polo anime with Kiyoshi Matsuda (Kakegurui××) at MAPPA. Nishida is also credited as creator, scriptwriter, series composer, and sound director.
Shiho Tanaka (Banana Fish chief animation director) is the character designer, and Kana Utakane (Yama no Susume: Third Season opening theme arrangement) is composing the music.
Teaser PV
Source: Pash! Plus