Heyas, Knights! April's a huge month for Princess Connect! Re: Dive, and we've got tons of exciting news and events to share with you all! Our next big content drop starts on April 11th, so here's the 4-1-1 for 4/11 and beyond.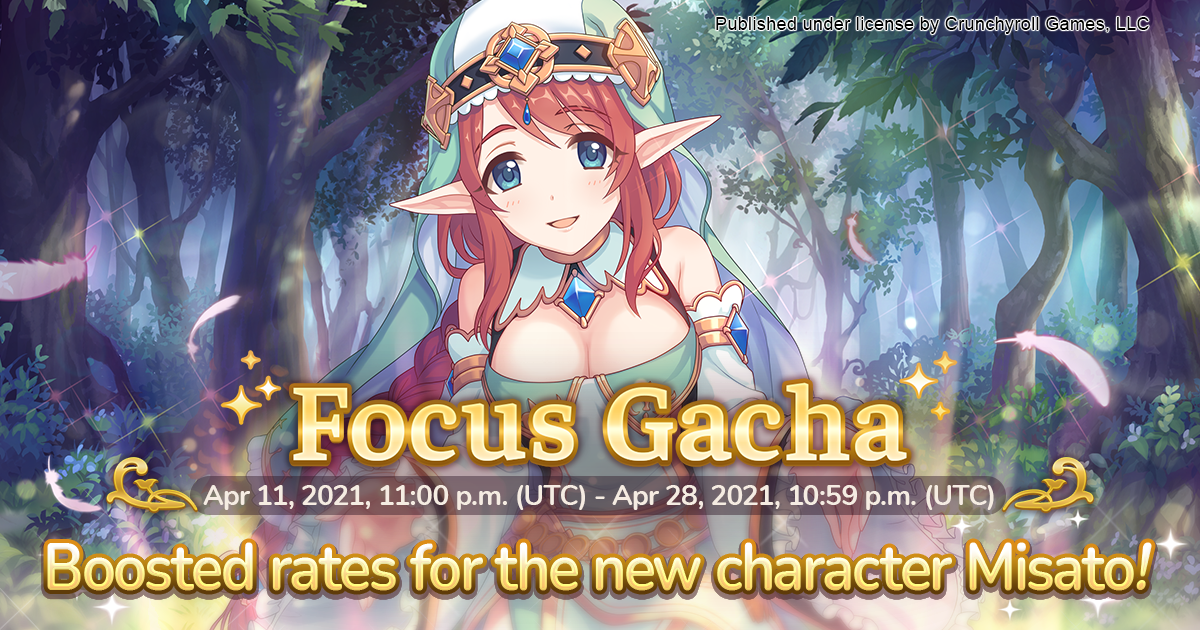 Let's start things off with a bang – introducing the new character Misato! With a Union Burst that heals everyone and ways to buff magic attack and defense, the elven leader of the Forestier guild is here to calm your nerves, heal your wounds, and bring her serene grace to the battlefield.
What would a grand entrance for a guild leader be without increased rates for other members of her guild, too? As other members of Forestier, you'll see increased draw rates for Aoi and Hatsune within the focus banner, and all three characters will be available for redemption using character exchange points.
The Misato Focus Gacha will run from 4/11 23:00 UTC to 4/28 22:59 UTC.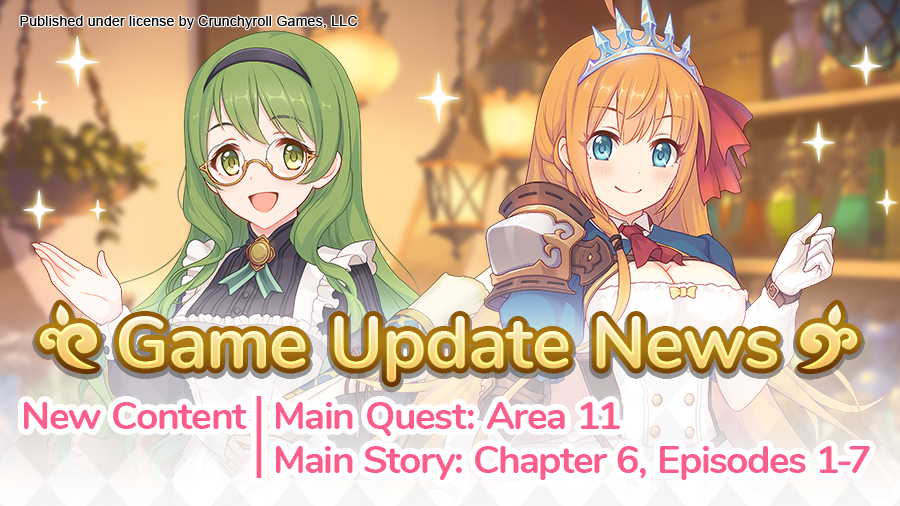 We're also unlocking Main Quest Area 11! Travel to the Genua Desert, where you'll find new enemies, new items, and new parts of the main story, waiting to be unlocked as you progress through the desert. The new items found in Area 11 will let you rank up your characters all the way to 3 slots at rank 9, and you'll be able to watch up to Episode 7 of Chapter 6 of the main story. Plus, you'll find new hard stages for obtaining Lima, Eriko, and Shizuru's Memory Shards.
In tandem with this new area release, we're also increasing the level cap from 88 to 93. Prepare your mana and experience potions – your characters will need them! 
New furniture makes its way to the furniture shop, too! We've seen some slick guildhouse designs (and some, uh, interesting usages of tiling…), and we're hoping to see more awesome floor plans! The guildhouse is your oyster.
The new area, increased level cap, and new story will be available after 4/11 at 13:00 UTC – the new furniture will be available later that same day at 23:00 UTC.
Rally your allies and plan out your teams – the April Clan Battle is coming! In Clan Battle, work with the aid of your fellow clan members to take on monsters too powerful for adventurers to handle alone. After the event is over, you'll earn precious Memory Shards, Clan Coins, and Jewels, depending on how well your clan did! The reward structure is the same as before, but you'll earn Chika's Memory Shards this time.
The April Clan Battle will run from 4/12 13:00 UTC to 4/17 07:59 UTC.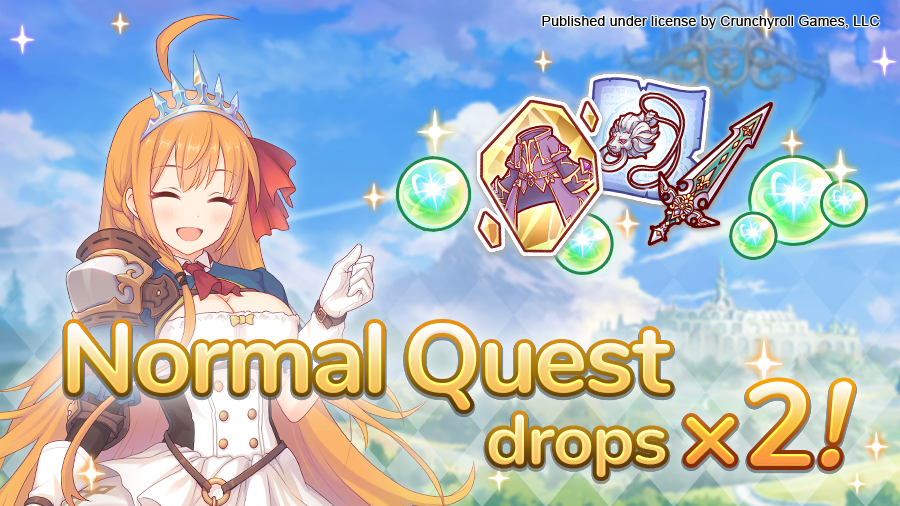 Finally, to round out this update, we've got a couple of exciting campaigns for the rest of the month.
First off, 2x drops are coming to Normal Quests again! This means that all drops from Normal Quests, including mana, items, and skip tickets, are doubled in quantity – a perfect opportunity to strengthen your characters. The Main Normal Quest Double Drops Campaign will last for nine days, from 4/12 13:00 UTC to 4/20 12:59 UTC.
After that, 2x drops make their way over to Hard Quests! You guessed it – all drops from Hard Quests, including mana, items, skip tickets, and even Memory Shards, are doubled! Let's use this chance to ascend some characters, shall we? The Hard Quest Double Drop Campaign will last for five days, from 4/20 13:00 UTC to 4/24 12:59 UTC.
And last up (but definitely not least up), we're ending the month with something special for you Knights: the Daily Free 10-Draw Campaign! That's right – login every day and you'll get to perform a free 10-draw on the current Focus Gacha! How crazy is that? That's a 1,500 Jewel value for free, every single day – the perfect opportunity to bolster your roster or grab some more Divine Amulets. The Daily Free 10-Draw Campaign will last for 10 days, from 4/21 13:00 UTC to 4/30 12:59 UTC.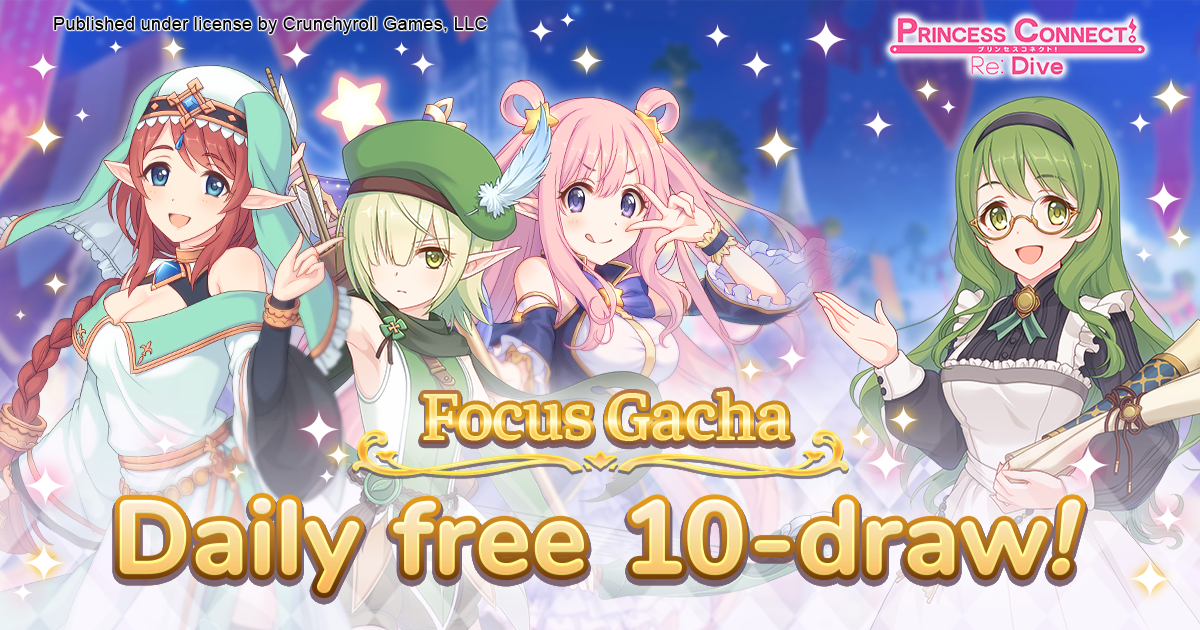 Included below is a summarized version of all the updates announced today, for easy reading and accessibility. Thank you for all your support, and we hope you continue to enjoy Princess Connect! Re: Dive! 
See you in Astraea, Knights!
— Crunchyroll Games
*Note: All event details may be subject to change. Please check the in-game notifications at the start of the events for the full details.
Misato Focus Gacha (4/11 23:00 UTC to 4/28 22:59 UTC)

Increased rate-ups for Misato, Hatsune, and Aoi
Misato, Hatsune, and Aoi available for redemption

April Content Drop (4/11 13:00 UTC)

Main Quest Area 11 unlocked
Level cap increased from 88 to 93
Character equipment cap increased from 8-5 to 9-3
Chapter 6 of the main story unlocked, up to Episode 7
New furniture available for purchase (available after 4/11 23:00 UTC)

April Clan Battle (4/12 13:00 UTC to 4/17 07:59 UTC)
Main Normal Quest Double Drop (4/12 13:00 UTC to 4/20 12:59 UTC)
Hard Quest Double Drop (4/20 13:00 UTC to 4/24 12:59 UTC)
Daily Free 10-Draw Campaign (4/20 13:00 UTC to 4/29 12:59 UTC)